The parish began in June of 1885 when the Right Reverend Louis d'Herbomez, OMI, Vicar Apostolic of British Columbia, appointed Father Patrick Fay to care for the two settlements of Granville: Gastown and Hastings. Father Fay was chaplain to the Canadian Pacific Railway workers.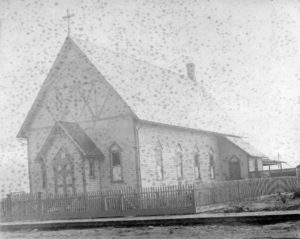 Father Fay said the first Mass on the Feast of the Holy Rosary, 1885. Regular Masses were held in Blair's Hall on Abbot Street and in Keefer's Hall, at Alexander and Water Streets. In 1886 there were 69 Catholic families in the "parish" and the need of a permanent church was obvious. The people decided to build. In choosing a site for the new church Father Fay looked south from the waterfront, up the slopes of the uncut forest, and pointed to the tallest tree, the land was acquired and a wooden church was built.
Records indicate that the first Mass was said in it on Rosary Sunday, 1889. The church was later enlarged and a bell tower built.
In the year 1898, Father J.M. McGuckin, OMI, decided to build a larger and permanent church; and on July 16, 1899, the cornerstone of the present church was laid. It was opened on the Feast of the Immaculate Conception, December 8, 1900, and was regarded as the "finest piece of architecture west of Toronto and north of San Francisco." In 1916 the Church of Our Lady of the Holy Rosary was declared a Cathedral. The Cathedral was solemnly dedicated by His Grace William Mark Duke, Archbishop of Vancouver on October 3, 1953.
Built in the form of a cross, the Cathedral dimensions are: 161 feet long, 104 feet across at the transepts, 62 feet across the nave and the aisles, 62 feet from the floor ceiling, 217 feet to the top of the larger steeple.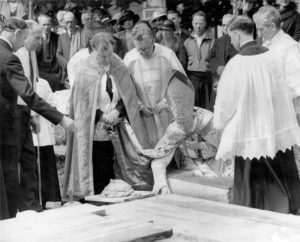 Holy Rosary Cathedral is built of sandstone from Gabriola Island on foundations of local granite. The Cathedral was designed by T.E. Julian and H.J. Williams. R.P. Forshaw was the contractor.
A number of renovations have taken place through the years. The most recent were in 1983-1984 in preparation for the Holy Father's visit to Vancouver on September 19, 1984.
The Cathedral is blessed with having high quality works of art: besides the stained glass windows, the Cathedral raised a new crucifix commissioned by His Grace Archbishop Miller completed and blessed in September of 2016. In February of 2020 the Cathedral acquired an antique painting of Our Lady of Guadalupe donated by Michael Audain, a local philanthropist and art collector. The painting is similar to the 'The Four Apparitions' of Nicolás Enríquez of 1773.