CONFIRMATION FOR ADULTS
The 2022 Adult Sacrament of Confirmation in English will be scheduled for the summer. Please visit this page for most most up to date information.
La confirmación en español será el Domingo 14 de Noviembre de 2021 a las 6:30. Las clases para el sacramento son el 3 y 9 de noviembre a las 7 PM. La asistencia en ambas es necesaria para poder recibir el sacramento. Para registrarse o si tienes dudas por favor escribe un correo a MWatson@holyrosarycathedral.org.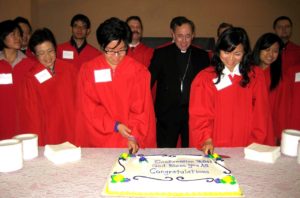 Catholics who have not yet been confirmed must present the following:
a) Certificate of Baptism
b) Certificate or picture of First Communion
c) Certificate of Marriage (if married)
Please download and complete the Adult Confirmation Registration Form and e-mail to office@vancouvercathedral.org.
---
For further information, please call the Cathedral office at
604 682-6774 ext 0 or send us an email.