CONFIRMATION FOR ADULTS
Confirmation class is on Nov. 18 at 7 PM. Attendance to this class is mandatory. Confirmation Mass will take place on November 22. Fore more information please contact the Cathedral office: office@vancouvercathedral.org. Spanish confirmation class will take place on November 25 at 7 PM, attendance is mandatory. Spanish Confirmation will take place on November 29.
La confirmación en español será el Domingo 14 de Noviembre de 2021 a las 6:30. Las clases para el sacramento son el 3 y 9 de noviembre a las 7 PM. La asistenia en ambas es necesarai para poder reciir el sacramento. Para registrarse o si tienes dudas por favor escribe un correo a MWatson@holyrosarycathedral.org.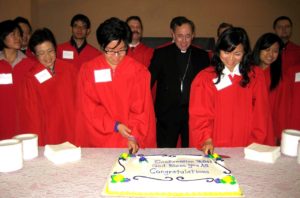 Catholics who have not yet been confirmed must present the following:
a) Certificate of Baptism
b) Certificate or picture of First Communion
c) Certificate of Marriage (if married)
Please download and complete the Adult Confirmation Registration Form and e-mail to office@vancouvercathedral.org.
---
For further information, please call the Cathedral office at
604 682-6774 ext 0 or send us an email.