Stewardship is a way of life which can be put into action in all aspects of our lives. As members of the Body of Christ, the health of that body depends on the individual contribution of each member.
Lay people have a very important role to play in the mission of salvation. By Baptism, Confirmation and the Eucharist, we are commissioned by Christ himself to this mission. In Lumen Gentium from Vatican II, we are told that "every layman, in virtue of the very gifts bestowed upon him, is at the same time a witness and a living instrument of the mission of the Church itself."
The questions we must ask are: What are the gifts God has given me that I have never even thought to thank him for? What are the areas in this community which could use my help? Am I only employing my talents where there is a financial return?
Our gifts of time, talent and treasure can be put to full use in a number of ministries in our parish. If you would like to find out more about any of these ministries or parish groups, please email office@vancouvercathedral.org.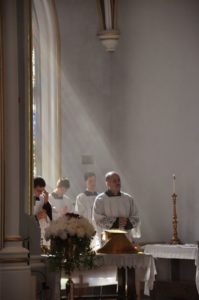 ALTAR SERVERS
The Cathedral has a team of dedicated men who are scheduled to help at specific Masses. Help is needed at weekday Masses too.
Contact: Fr. Santa Maria at psantamaria@rcav.org.
Assistant MC of the Cathedral: Vijay Krishnan: mvijayyk9@gmail.com
Assistant Sacristan: Jenukshan Colombas
Men interested in Serving at the Cathedral please contact Fr. Pablo or Vijay.
CATHEDRAL BELL RINGERS
A skilled and dedicated team of bell ringers rings our eight bells by hand. New ringers, experienced or not, are welcome always. Practices are held on Tuesdays at 7:30 PM.
Visit http://www.vscr.ca or Email:office@vancouvercathedral.org
CATHEDRAL GIFT SHOP
The Gift Shop aims to be open before and after the noon, and evening weekday Masses, Sunday morning and evening Masses, & is staffed by a crew of dedicated ladies. Thank you for your support.
CATHOLIC WOMEN'S LEAGUE
The Catholic Women's League of Canada is a national organization, rooted in Gospel values, which calls its members to holiness through service to the people of God. We organize a wide variety of spiritual and social events and good works.
Email: Jane Rosenthal, janemrose@telus.net
CHURCH CARE & CLEANING
The sanctuary is given a thorough cleaning every Tuesday morning, 9 – 11 AM, and on the last Saturday of each month. More hands are needed.
Contact the parish office if you are interested. (Suspended during the COVID-19 emergency)
CHOIRS
Three choirs offer a variety of music repertoires to enrich our prayer experience. Find out which of our choirs is right for you.
Please Contact: Catherine Walsh (604) 222 8072
LECTORS
The sacramental celebration of the Word of God is a proclamation which must enlighten the minds of the listeners and inspire them in the journey towards God. New lectors welcome. Attendance at a Lector's Workshop is compulsory.
Contact: Tony Lagemaat, Email: hrc.lectors@gmail.com
HANDMAIDS OF THE LORD
This is an all-women ministry of the Couples for Christ. It aims to provide Christian pastoral support for personal renewal.
Contact: Grace Inonog: grace.inonog@yahoo.com
KNIGHTS OF COLUMBUS
The K of C a fraternal benefit society founded on the principles of charity, unity and fraternity. Fellowship is promoted among members and their families through educational and charitable and social welfare works.
Contact: Grand Knight Denis Faucher, (604)356 3804 or email: DFJFaucher@protonmail.com
LEGION OF MARY
The men & women of the Legion are a well-established organization in the parish. They serve in all areas of parish life as greeters, ushers and prayer leaders. They also make house visits to visit the sick, pray the rosary and evangelize.
Contact: Ave at 778-896-0649.
HISPANIC COMMUNITY
The weekly Spanish Mass now caters to the Spanish-speaking community in our parish. If you would like to serve as an usher, lector or in any other way please let us know. For more information please visit our Facebook page or contact our chaplain, Fr. Pablo Santa Maria at 604 682 6774 ext. 231. Para mas información por favor visiten nuestra página de Facebook. Please click here. Haga click aqui.
LATIN MASS
The Cathedral has celebrations of the Latin Mass using the Missal antecedent to the reform of 1962 (Extraordinary Form/Tridentine Mass). Masses are celebrated every Sunday at 4 PM and Fridays at 6:30 PM. Special Masses take place in First Class Feasts. Latin Mass chaplain: Fr. Pablo Santa Maria. Coordinator of the Latin Mass ministries. Daniel Chan.