Catherine Walsh
Organist and Music Administrator
A native of Prince George, Catherine Walsh graduated from the University of British Columbia with a Bachelor of Music degree in organ and harpsichord. She has played in various parishes throughout Vancouver starting in the mid-1980s, and at the Cathedral since 1998. She the Cathedral Choir and also organizes visiting choirs and organists to the Cathedral.
Choirs
The Cathedral Choir
The Cathedral Choir is directed by Catherine Walsh and is a mixed choir dedicated to providing music for the Solemn High Mass at the Cathedral (11 AM Sundays) as well as all major feast days. They regularly sing polyphonic Masses as well as a variety of motets in both English and Latin. If you are interested in joining this choir, you must be able to read music and be willing to give an audition. Practices are Thursday evenings at 7 PM. Call the office for more information at 604-682-6774.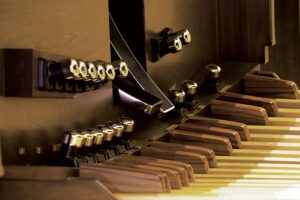 The Contemporary Choir
The Cathedral Contemporary Choir, directed by Chito Lacsina, sings at the 1 PM Sunday Mass. They are a 30-member choir who sing mostly contemporary and congregational music and are accompanied by either the organ or the piano. No experience is necessary to join, just a love of singing. If you are interested in joining this choir, call Chito at 604 873 9643.
The Latin Mass Choir and Schola
Directed by Paula DeWit and Bevin Nathaniel van Liempt, they sing at the Traditional Latin Mass every Sunday at 4 PM. The repertoire is a mixture of Gregorian chant and Polyphonic Motets. If you are interested in auditioning or learning more, please contact our director via email, pauladewitconductor@gmail.com .