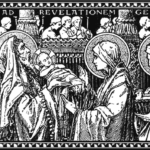 Address:
646 Richards St
Vancouver, BC V6B 3A3 Canada
Event Details:
This feast also known as Candlemass and Purification of the Blessed Virgin Mary. On this day the Church blesses the candles that will  be used in the Church's liturgical service.
Candles are helpful to have at home to remind us of Jesus, as the "light of the world – a light that darkness cannot overcome."
Please bring candles from home that you wish to have blessed and they will be included as we bless the candles that will be used on the Altar.
Candles will be blessed at all Masses: 8 AM, 9:30 AM, 11 AM, 12:30 PM, 5 PM, 6:30 PM (Spanish) and 8 PM.
For more information please click here.