CONFIRMATION FOR ADULTS
Preparation classes will be held over four Wednesdays on 1, 8, and 15 June 2016 from 7pm-8:30pm in Holy Rosary Hall. Attendance at all four sessions is mandatory.
Confirmation Mass is on Sunday 26, 2016 at the 9:30am Mass. To register for classes, emailhrc@shaw.ca. To print out an online copy of the application form, click here.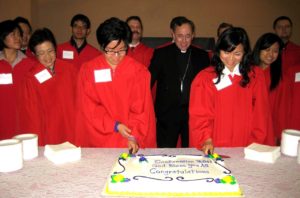 Catholics who have not yet been confirmed must present the following:
a) Certificate of Baptism
b) Certificate or picture of First Communion
c) Certificate of Marriage (if married)
---
For information about sponsor eligibility, click here.
For further information, please call the Cathedral office at
604 682-6774 ext 5.