CONFIRMATION FOR ADULTS
Preparation classes will be held over four Wednesdays on 7, 14, 21 & 28 of June 2017 from 7 PM – 8:30 PM in Holy Rosary Hall. Attendance at all four sessions is mandatory.
Confirmation Mass is on Sunday July 2, 2017 at the 11 AM Mass. To register for classes, email office@vancouvercathedral.org.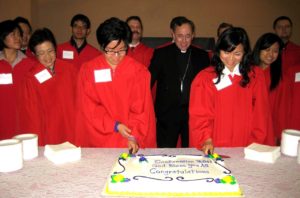 Catholics who have not yet been confirmed must present the following:
a) Certificate of Baptism
b) Certificate or picture of First Communion
c) Certificate of Marriage (if married)
---
For further information, please call the Cathedral office at
604 682-6774 ext 0.