Welcome to Holy Rosary Cathedral
The Cathedral is a house of prayer, praise and worship.
At its heart is the Blessed Sacrament which is the presence of God among us.
We warmly invite all who are seeking the love and peace of Jesus Christ in their lives to be part of our community.
Advent Confessions
Advent is a time of joyful expectation, to better prepare for Christmas come to confession.
During advent the Cathedral will have confessions at regular times:
Mon – Fri @ 7:45 AM, 11:45 AM, 4:45 PM Sat @ 7:45 AM, 11:45 AM, 4-5 PM
Around Vancouver many parishes also have special confession times. To know more about it please click here.
For help preparing forconfession and for an examinationbefore confession please click here.
Ordination Pictures
For pictures of the Ordination of Deacon Richard Conlin and Father Felix Min please click here.
Congratulations to the newly ordained!
J. Michael Miller, CSB
Welcome to this cathedral, which is your cathedral, dedicated to Our Lady of the Holy Rosary, principal patron of the Archdiocese of Vancouver.
The church's doors are open every day and throughout the day, and I invite you to make this sacred place your church in the heart of downtown Vancouver.
The cathedral offers something to every visitor, Catholic or non-Catholic. Explore its French gothic architecture, view its magnificent stained glass windows, and enjoy the exquisite organ music through which we praise God. This is where you can encounter our Lord in the sacraments, with Mass offered several times a day at convenient times, and confession available before and during weekday Masses.
In this busy city, I pray that our cathedral can be an oasis that sustains and restores you. Amid the hectic pace of life, may it serve as a sanctuary where you can drop in, pray, and meditate.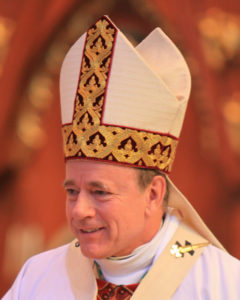 We are blessed to have this beautiful church, which for 117 years has stood as a symbol of our Catholic faith, a house of God in the heart of this beautiful and vibrant city. I invite you to come and make it your home as well.
+ Archbishop Miller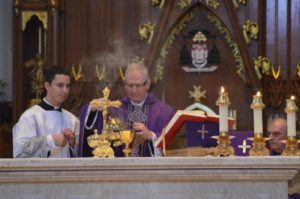 Times for the Holy Sacrifice and Confessions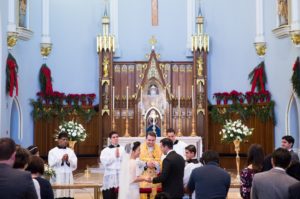 Booking weddings at the Cathedral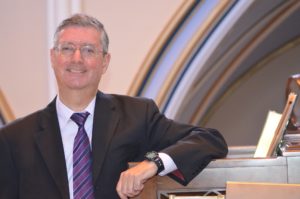 Follow the cathedral concert series
Cathedral's young adult group
Read our weekly Bulletin
Details about the renovation